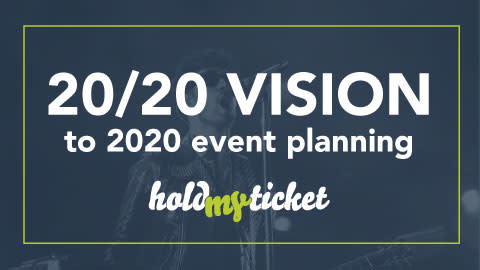 Do you have a 20/20 vision on what your 2020 event needs look like? With the start of the new year, it's time to get organized, set goals, and get ahead of upcoming needs. Start with these basic questions:

1. How many events are you planning?
2. What type of events are you planning?
3. How many attendees are expected at each event?
4. What's your marketing budget per event?
5. How many events per quarter?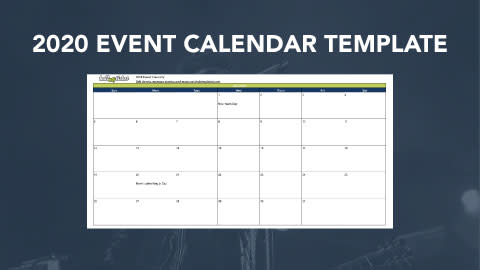 Organize your events and needs in your 2020 event calendar template! We developed a template for you to get organized. Get (and make) a copy of your HoldMyTicket 2020 event calendar template now.
Other than getting organized on paper, you have to make sure you're keeping up with all the twists and turns of planning events. With thousands of events happening weekly, how will you make yours stand out? Here are 10 of the best tips to give you 20/20 vision of your 2020 events:


10. Plan Early

You can never be over-prepared. The guaranteed success of events happens with promotion months in advance with digital advertising, traditional media buys, and online ticket sales. Planning ahead will give your event time to attract an organic following before you put your marketing dollars behind it. Save money and enjoy a larger ROI.


9. Get Dirty with the Details
The details are what make your event stand out! It's getting harder to become more original these days and you need to figure out a sure-fire way to for your event to stand out. Communicate these unique details to guests beforehand and hype them up for the experience of a lifetime.


8. VIP is the real MVP
Don't skip out on VIP experiences. Even though VIPs will only count for 10% of admission, they will generate an estimate of 25% in revenue. Make sure you're giving them the experience they won't regret spending the money on.


7. Automated Marketing
Automate your marketing! Whether it be with automated tweets when an event goes on sale, automated social media ads, or automated newsletters - you are guaranteed sales without having to do much work. Keep an eye out for an exciting new feature HoldMyTicket will be rolling out in 2020! Sign up for our email list and be the first in the loop.


6. Easy Ticket Purchases
Purchasing tickets should be an easy and quick experience for patrons. With HoldMyTicket, we provide your guests with the ability to purchase online, in our app, social media, or over the phone - all in a couple of minutes. Make sure you're placing your short link to your event page and ticket CTA's on all marketing materials.


5. Pre-Sales Help Sales
Release a pre-sale of your tickets in advance to gain traction to your event. Lower pre-sale prices and promotions are a huge incentive!


4. Pick the Right Vendors
Whether it comes to food, art, or local vendors - you have to make sure you're picking a diverse enough group that will keep your guests walking from booth to booth. For vendors to push more sales and move quickly, it's always best to encourage vendors to use credit card merchants and mobile pay.


Write a press release and send it to your local media contacts. Don't be afraid to call up your local reporters to give them a little more details of the event and see if they'll feature it. TV and radio still bring in tons of awareness and engagement.


2. Short Waiting Lines
Make sure you have an entrance strategy in place. Nothing ruins the night more than a poor admission experience. Start by asking yourself the following questions: Do VIPs have their own admission line? Do you have enough ticket scanners post-security? Are there enough people in your box office to sell tickets? Remember with HoldMyTicket's Swarm Box Office, anyone with a smartphone can join in and help scan tickets!


1. Customer Service
Having quick and clear customer service for patrons is a must! Make sure to include a clear and detailed cancelation and refund policy in your event details and checkout process. Our support team at HoldMyTicket handles everything from walking you through your account, walking your customers through questions and purchases, and making sure your event goes off with a bang!

Start filling out your 2020 event calendar template and crush some events this year! As always, your HoldMyTicket team is here to help you knock your event goals out of the park. Sign up for an account.