HoldMyTicket is announcing our new Social Distance Seating feature for venues and promoters. The new Social Distance Seating tool in the SPARK Event Manager is how you can flexibly create, manage, and maintain social distancing between customers at your events on the fly.
---
Our Social Distance Seating feature now allows customers to pick their seats all while adhering to new safe distancing guidelines, making sure seats are spaced accordingly and can be changed at any time. This is a quick way for you to establish space in your venue to meet social distancing guidelines.
You can use the Social Distance Seating to set customized spacing between seats and rows. We recommend creating a custom Social Distance Holds category beforehand in your Seating Chart Editor in SPARK so that you can customize what rows you'd like blocked off to adhere to distancing recommendations. As seats sell for your event, spacing holds will automatically be added to your holds category.
After you create that category, holds are placed automatically and applied throughout your event based on the number of seats you specify in your account, and rows are spaced based on Social Distance Holds you set under your custom holds, giving you peace of mind that the distancing standards are locked in and ready to go.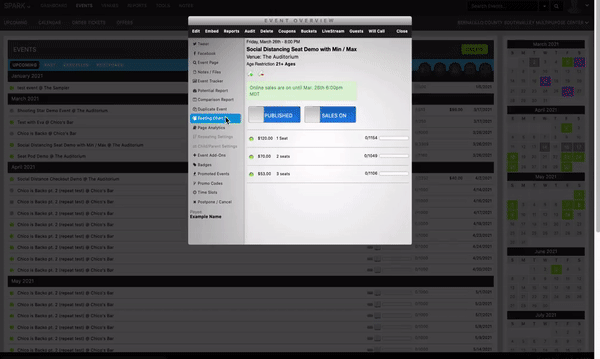 Don't forget to use the shift button to select multiple seats at once when creating a hold in a row! This expedites your holds creation process and blocks out entire rows for easy spacing.
If you do not create a Social Distance Hold category under the Holds section in the Seating Chart Editor, one will automatically be created when you check the Social Distance Seating box on your event and sell seats.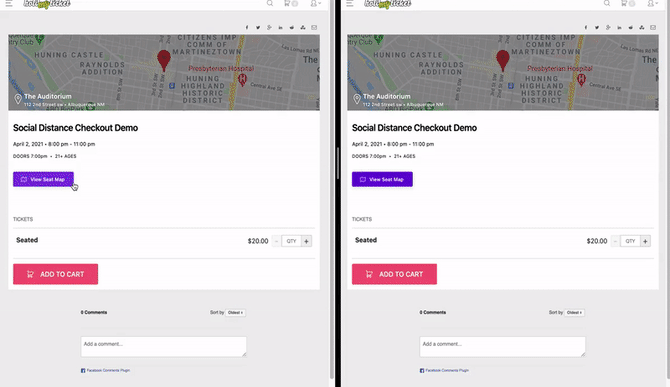 Once a customer selects their seats from what is available on your seating chart, it will automatically place holds on seats around the selected seats based on what social distance setting you have made in your SPARK account.
Create your event in SPARK and apply the Social Distance Seating to your ticket types for your event in the advanced settings tab. As your tickets go on sale, customers will be shown seats available as you have set them up in your account.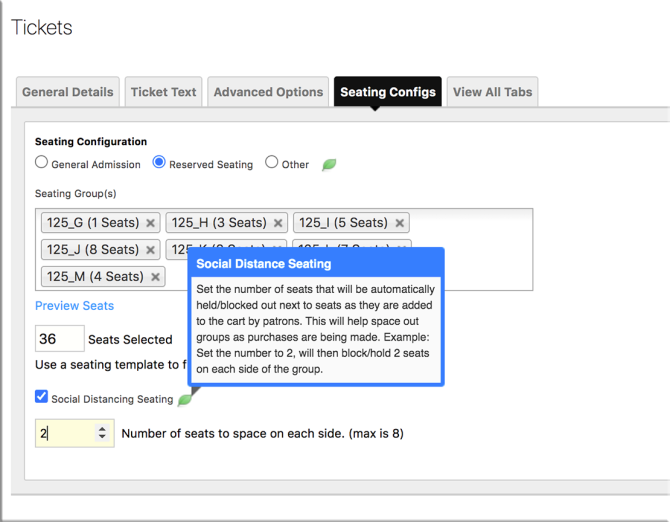 Our new normal has created a lot of fast-paced changes that keep us on all our toes. The simplicity of our Social Distance Seating feature allows you to keep track of your seating solutions seamlessly and gives you the flexibility to keep up with changes within minutes.
You can learn how to utilize Social Distance Seating in order to create specific seating arrangement availability for your event by following our how-to doc.
You can also learn more about Seating Pods and how that configuration could work for your events, too!
Timed Ticketing is another great social distancing tool at your fingertips in SPARK Event Manager. Learn more from our how-to doc.
---
Social Distance Seating is integrated with HoldMyTicket's SPARK Event Manager and SWARM Box Office. Get started with HoldMyTicket today.