The Seating Pods management tool in the SPARK Event Manager helps you to create, organize, manage, and maintain social distancing between customers at your events.
---
Seating Pods can be configured in your seating chart to help you with more specific social distancing for your event. Found in SPARK under the Seating Configs tab of a ticket, this option will force all seats that are next to each other to be sold at once. It can be a good use case for manually social distancing a group of tickets in a seated venue, or forcing all seats at a table to be sold at once.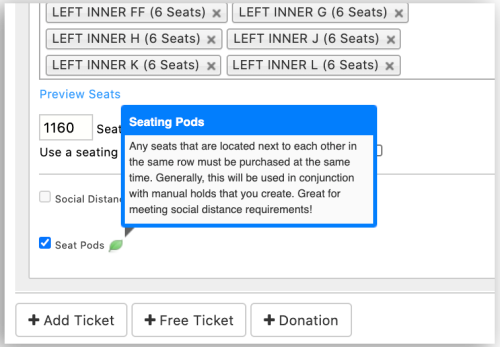 With the Seating Pods specifications in your SPARK account, customers will only be able to select tickets grouped in a pod and will not be able to separate those tickets out based on your settings.
Seat Pods for Fixed Seating Venues
With a bit of planning, seating pods will allow you to create a more detailed and customized seating offer for customers to choose from. To group your seats, you will go into your Seating Chart Editor in your SPARK account and put holds on the seats you do not want available for sale, which will create the spacing needed for distanced seating.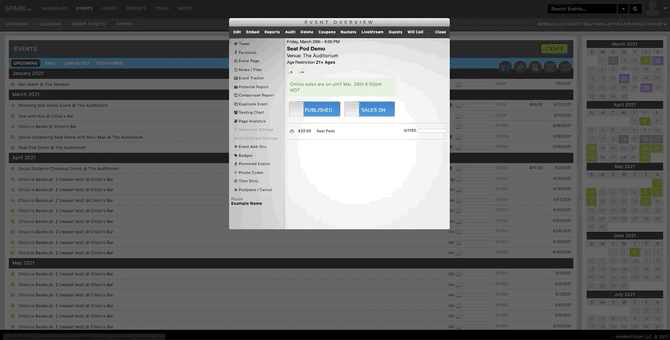 Don't forget you can hold down the shift button while you select seats to hold to block off multiple seats at a time.
As seats sell, this is how they will appear to the customer on the seating chart: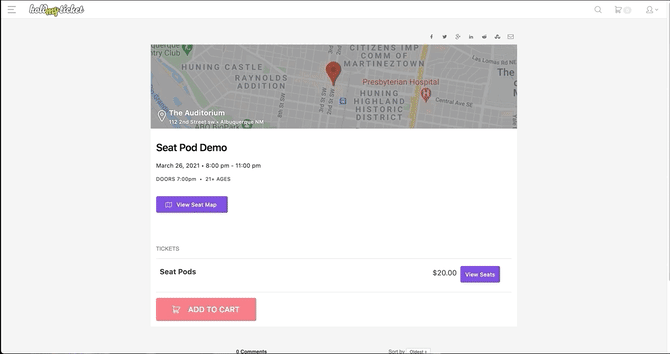 This is also how they will appear when a customer adds a set of tickets to their cart. The changes will reflect on our website, as well as in SWARM Box Office app. If you upgrade or exchange tickets to a seat pod ticket, it will force the seat pod rule automatically for your event.
Seat Pods for Table Tops
This feature is also great for selling tickets to table-top events where customers should buy all seats at a single table. This allows you to automatically group and sell all seats at a table together. The buyer clicks once, knows how many seats they are buying and you know how many attendees are coming.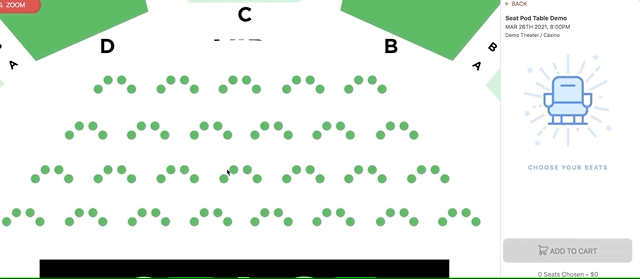 Our new normal has created a lot of fast-paced changes that keep us on all our toes. As social distancing becomes a part of venue planning, the simplicity of managing Seating Pods for your events allows you to keep track of your seating solutions with ease and allows you to make changes within minutes.
You can learn how to utilize Social Distance Seating, as well as Seating Pods, in order to create specific seating groups for your event by following our how-to doc.
Timed Ticketing is another great social distancing tool at your fingertips in SPARK Event Manager. Learn more from our how-to doc.
---
Seating Pods and other social distancing features are integrated with HoldMyTicket's SPARK Event Manager and SWARM Box Office. Get started with HoldMyTicket today.