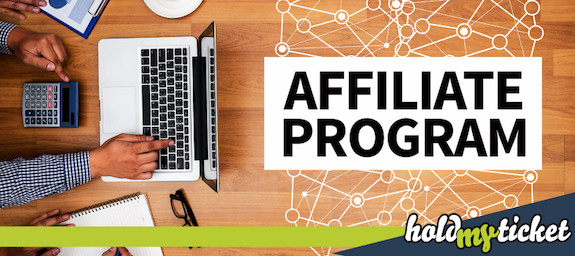 HoldMyTicket already lets you work smarter rather than harder; Now when you share HoldMyTicket, HoldMyTicket will share with you.
Earn cash simply by referring venues and event organizers and promoters as new clients to HMT's innovative ticketing and event management software through our Affiliate Program.
Every time your Referral sells a ticket, you will get 10% of HoldMyTicket's fees from that sale for their entire first year as a client with HoldMyTicket. When you've accrued a minimum of $20, HoldMyTicket will send you a monthly direct deposit with your portion of HMT's fees.
There is no limit to the number of people or venues - including concert halls, theaters, event promoters, festivals, and stadiums - that can sign up through a unique link sent by you via the Affiliate Program portal on our website.
Participating in HoldMyTicket's Affiliate Program is easy, and it only takes a minute to get started. Join and start sending your unique link to Referrals, by enrolling now.