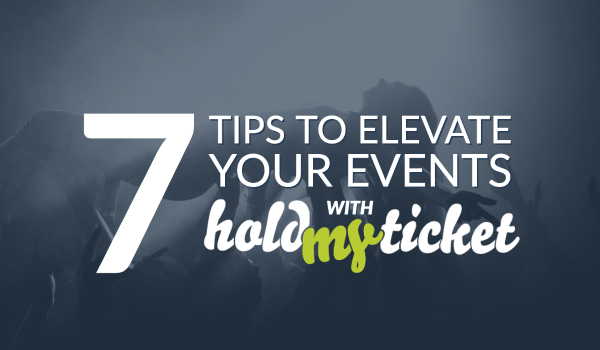 Whether you're holding a festival or a gala, organizing an event requires a lot of planning and hard work. HoldMyTicket is here with tips (and tools) to make it easier.
Set the Scene
People have a lot of event options. Entice people to add your concert or display to their list of must-attend events with dazzling details on your HMT event page . Focusing on what makes your event unique, hype it up with inside info and videos.
Use behind-the-scenes clips of event and performance preparation, set lists and other teasers to show people just enough to make them want to fully experience your event for themselves. Pro tip: Share your content on different channels to maximize reach and increase engagement.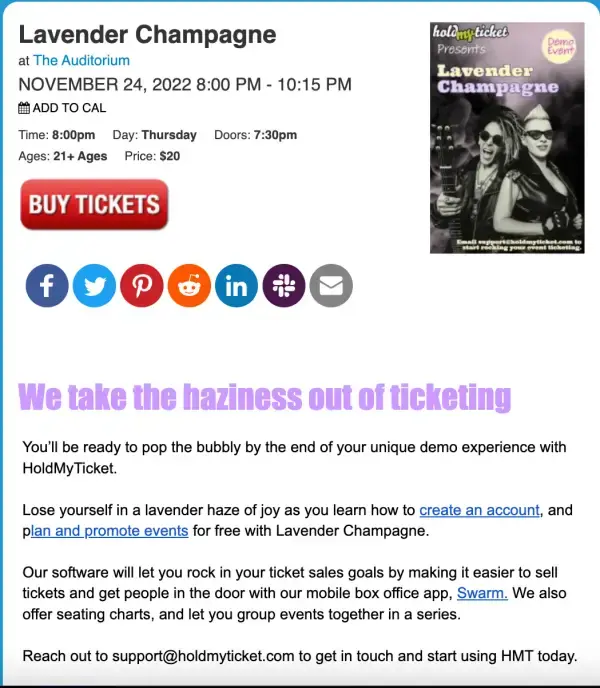 Our fully capable shopping cart can also help people find the perfect show for every person in their life by showing them other upcoming events for which they can "add to cart" without missing out on their transaction in progress, and personalize their gift with our surveys tool.
Care to Share
Nothing spreads holiday cheer like something joyful to hear! Maximize your event's promotion by sharing your event's link on local social media groups and neighborhood websites. Include a flyer to up your chance of garnering shares and engagement, benefitting from free exposure.
Get people excited for your event by posting about it on your blog and socials, including links to your event page and featured performers or artists. Make sure your blog post is a part of your marketing, linking to it on your social media and including it in any newsletters.
Offer VIP Tickets
While only accounting for 10% of admissions, VIP tickets can account for up to 25% of revenue. Also consider offering special tickets to timely buyers with pre-sales or promo codes
If your event will include multiple showtimes throughout the holiday season, you can encourage people to attend earlier in its run with lower prices with coupon codes. You can even save time by scheduling repeating events at the same time.

Don't wait for a slow news day to get your event some attention from the local media outlets. Write an engaging press release and send it to your media contacts. Then, call up reporters to give them a little more details about the event to inspire them to do a feature
Reaching out could be especially fruitful if your event is for charity or will benefit others in the community. Make sure to link to your event page and blog post, as well as your social media, so they have contact details easily accessible and can share with their own audiences.
Help people find your event online by also tagging us in your social media posts, and including the HoldMyTicket logo on your artwork. Make sure you've added tracking codes to your event so you can keep track of where your event is gaining traction so you know where to focus your marketing.
Communicate with Fans
Clearly communicate all the information fans will need to show up at your event ready to have an amazing experience. Ensure people are aware of cancellation and refund policies, particularly if your event is outdoors or vulnerable to weather changes.
Include information about parking in your event description and indicate whether parking needs to be bought separately. Provide information on any clear bag and purse restrictions, list permitted items and prohibited items, making sure people know what they can bring in and to leave behind on your HMT event page.
Tell people what they can find inside, like food vendors and alcoholic drinks, especially if outside food and drinks are not allowed. If anything changes before your event, update patrons through the HMT's messenger tool and post the new information on your socials and website.
Finally, provide contact information for the venue and HoldMyTicket, for anyone with more questions or additional needs. We can be reached at EMAIL US: [email protected] Call our office: 1.877.466.3404
HOURS: Mon-Fri 9 AM - 6 PM; Sat-Sun 11 AM - 6 PM, MST
Manage Lines
Keep your lines short and sweet with HMT's Swarm Box Office. Turn any device into a scanner to keep lines moving quickly and efficiently and get people in the door even faster. Our technology even has you covered if your wifi cuts out, so fans aren't left out in the cold.
Use etickets and encourage people to add them to their mobile device's digital wallet for quicker access. Have an entrance strategy in place that gets patrons in the door and to their seats quickly. Come up with a plan for directing VIP attendees and those with additional needs. Consider having a different admission process for patrons with small children at family-friendly events or groups from schools and organizations.
Provide Customer Support
Having convenient and empathic customer service for patrons is a must. Do your best to anticipate and address your guest's questions and needs. Along with communicating all necessary information to your event attendees when selling them their tickets, include contact information.
Direct them to HoldMyTicket's support team if you're unable to assist them. D Whether it's selling to customers directly, walking your staff through a process, or helping scan attendees in at the door, we're here to help with all you or your customers ticketing and event questions.
These are just a few tips to help you start planning and promoting your event today.Learn more about why should switch to HoldMyTicket for all your event ticketing and promotion needs or sign up now..